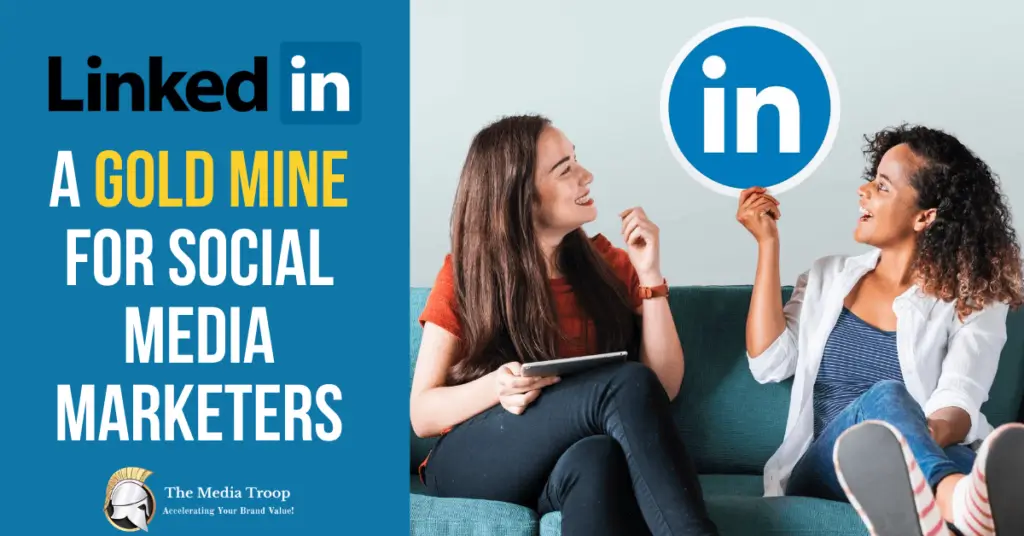 LinkedIn is a very good tool for connecting with potential clients and business people. LinkedIn, at its core is a professional social network.
It's all about career development, professional connections and other types of business related activities. You cannot just post anything and everything you want, people on LinkedIn are professionals who are there for business.
Many people assume that LinkedIn is just for professionals and job seekers. This certainly is not true. Millions of professionals use LinkedIn to grow their networks and careers, but did you know you can use LinkedIn for social media marketing?
Here are few guidelines you can refer to before starting social media marketing on LinkedIn and know how to use LinkedIn for business marketing.
Create an Optimized Company Page
To begin with LinkedIn marketing, the first step is to create a company page.
Your profile is a great opportunity to impress.
LinkedIn company page strategy– your page should provide opportunities to your customers to know about your brand.
What is in there for them, what purpose will it serve to them are the basic questions that your page should provide answers to.
Keep optimizing your profile; update about your latest achievements, skills and examples of your latest work.
Upload an image that showcases your brand. Create a 'About Us' section that encapsulate about your brand. Put your website link to grab attention of the people.
Share your physical location as well; this will help your potential clients to know you better. It also helps you to stay connected to the businesses in your area. Local referrals are a good way to show trustworthiness to the greater audience.
Publish Engaging and Actionable Content
Content Marketing is absolutely essential on any social media platform. The type of content that you post defines the degree of progress that you will get in LinkedIn social media marketing.\
Multiple post everyday will help you reach and engage with your audience.
LinkedIn is a text heavy environment; images can actually provide you sufficient traffic to make your post famous. LinkedIn posting strategy– your content should provide an insight on how to solve a problem and then establish you as a thought leader.
How engage people on LinkedIn? Use of trending hashtags will help you attract audience. Create catchy headlines and upload eye-catching images to grab attention of your target audience.
In fact videos get higher number of views in comparison to images. Just looking at a picture no one can sense the usability of the product but a quick sneak peak can generate interest among audience. This will make your product famous and people will be anxiously waiting for it.
Going live on LinkedIn can also promote huge audience participation as it gives live insight on your product and business. Live videos generate more comments than a regular shot video.
Make sure to post relevant content which not only presents your product but also talk about it. Avoid hard selling and try not to sound too 'salesy'.
Engage with Your Audience
Expand your networks, which will present you before your potential clients. Post content that are fruitful.
You can always ask your connections to post or promote your product on their pages as well.
Your post will drive customers to action, which means you should be ready to provide them with answers to all their queries.
Your content will derive questions from your audience and you should be able to satisfy them. Customers should not be kept waiting as they will lose their interest in your business. Answer them sooner rather than later.
InMail is a customized way for you to connect with people who aren't already in your 'network'. With InMail, your personalized message is sent directly to a target individual's LinkedIn inbox. Like every other social media platform, engaging with others is a key component to success.
Join and Create Groups
If you have a question- How to use LinkedIn to promote your business? You can also grow your network by joining an industry group and participating in them. This will let people know that you are an active person and have business knowledge.
To enhance your LinkedIn business, you can also start a group and indulge in knowing your audience. Share your knowledge and expertise to gain customer trust which will help you improve your business tactics.
LinkedIn business works on the prospect of fresh ideas. These groups enable you to share knowledge, spread awareness and build authority among the group members.
These groups will inform you about how people think and what they demand from the product. This will provide you with opportunity to know your customers better.
Create LinkedIn ad Campaigns
Think about LinkedIn marketing strategy. Expand your network and cultivate a professional reputation for your business.
Reach your marketing goals with more ad options. You can also use paid advertisements to get your business in front of the potential clients. You can use sponsored content to boost your content in your audience's feed and you will see the benefits of using LinkedIn for business.
Recommendations
Try to get recommendations and endorsements from other already existing companies as they provide you with opportunities to reach out to vast audience.
Look for updates where people recommend others. Try to get in contact with them, get your network connected and establish a bond so that they might help you to get the required name.
Follow LinkedIn Marketing Blog
LinkedIn marketing blog is a custom curated selection of articles specially designed to improve your LinkedIn marketing.
You can go there for advice and implement new ideas that boost your presentation and guide you towards LinkedIn business marketing.
Conclusion
Building and nurturing your professional network should be something you are always working on. Having a large network can open doors for you that would otherwise remain locked.
How to use LinkedIn for business marketing– Knowing the right people and fostering your relationships with them can bring amazing opportunities.
Follow these guidelines and you will surely be able to see benefits of LinkedIn marketing in your business.