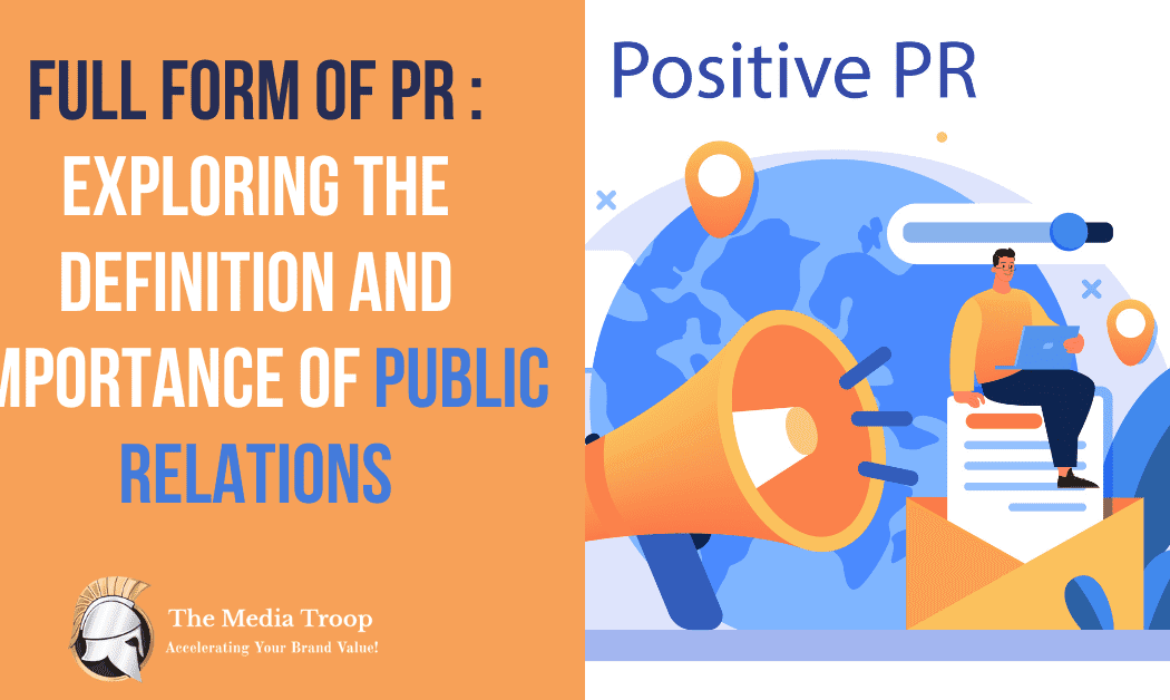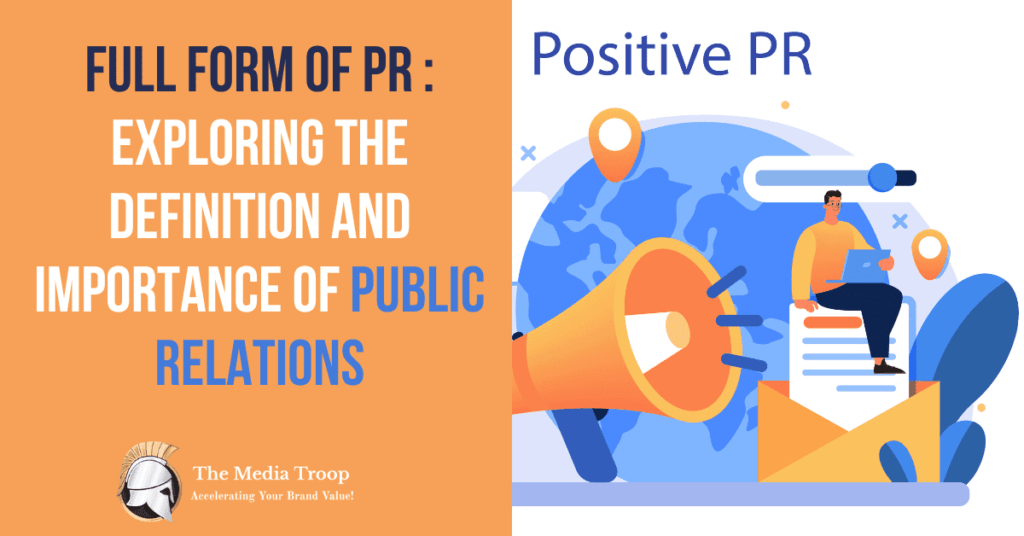 Public Relations (PR) plays a crucial role in shaping the image and reputation of individuals, organizations, and brands. It is an essential component of effective communication strategies, both online and offline. In this article, we will delve into the full form of PR and explore its significance in today's interconnected world.
Table of Contents
What is PR?
The Evolution of Public Relations
Key Objectives of PR
PR Strategies and Tactics
The Role of PR Professionals
PR in the Digital Age
PR Metrics and Measurement
The Benefits of PR
PR and Crisis Management
PR vs. Advertising
Ethical Considerations in PR
PR and Brand Reputation
Industry Examples of PR Success
Future Trends in PR
Conclusion
What is PR?
PR, or Public Relations, refers to the strategic management of relationships between organizations and their target audiences, with the aim of building a positive image, enhancing credibility, and establishing mutually beneficial connections. It involves the planned dissemination of information, managing perceptions, and engaging with stakeholders to influence public opinion and maintain goodwill.
The Evolution of Public Relations
Public Relations has a rich history that dates back to ancient civilizations. However, it gained significant prominence in the early 20th century when it became a distinct field of study and practice. Today, PR has evolved in tandem with technological advancements, embracing digital platforms and social media as powerful tools for communication and engagement.
Key Objectives of PR
The primary objectives of PR are to:
1. Build Awareness and Visibility
PR professionals strive to increase the visibility of their clients or organizations through targeted media coverage, events, and strategic partnerships. This helps in creating a positive perception and reaching a wider audience.
2. Manage Reputation
Maintaining a favorable reputation is crucial for any individual or organization. PR practitioners work to safeguard their clients' reputations by monitoring public opinion, addressing issues promptly, and communicating transparently.
3. Enhance Credibility and Trust
PR endeavors to establish credibility and trust among stakeholders by positioning clients as industry leaders, subject matter experts, or trustworthy sources of information. This is achieved through thought leadership, media relations, and effective storytelling.
4. Foster Relationships
Building and nurturing relationships with key stakeholders, including customers, employees, investors, and the media, is a fundamental aspect of PR. These relationships form the foundation for positive engagement, collaborations, and support during crises.
PR Strategies and Tactics
Successful PR campaigns employ a range of strategies and tactics to achieve their goals. Some common techniques include:
1. Media Relations
Establishing and maintaining relationships with journalists, reporters, and media outlets to secure favorable coverage and share newsworthy stories.
2. Content Creation and Distribution
Crafting compelling and relevant content such as press releases, articles, blog posts, and social media updates to engage target audiences and generate interest.
3. Event Management
Organizing events, conferences, and seminars to create networking opportunities, showcase expertise, and generate media coverage.
4. Influencer Partnerships
Collaborating with influencers and industry experts to amplify messages, enhance credibility, and reach wider audiences through their established platforms.
PR professionals are skilled communicators and strategists who act as liaisons between organizations and their stakeholders. Their responsibilities include:
Developing PR strategies and campaigns
Writing press releases and media pitches
Managing media relationships
Monitoring and analyzing media coverage
Crisis management and reputation repair
Providing strategic counsel to clients
Conducting research and market analysis
Measuring PR campaign effectiveness
PR in the Digital Age
The digital revolution has transformed the PR landscape, offering new channels and opportunities for communication and engagement. Online platforms, social media, and digital analytics enable PR professionals to reach target audiences more effectively, measure campaign impact in real-time, and engage in two-way conversations with stakeholders.
PR Metrics and Measurement
Measuring the success of PR efforts is crucial to evaluate effectiveness and make informed decisions. Common metrics include:
Media mentions and reach
Website traffic and referrals
Social media engagement
Brand sentiment analysis
Share of voice in the media
Conversion rates and lead generation
The Benefits of PR
Effective PR strategies can yield numerous benefits, including:
Increased brand visibility and awareness
Enhanced reputation and credibility
Stronger relationships with stakeholders
Improved customer trust and loyalty
Crisis preparedness and management
Increased sales and business growth
Competitive advantage in the market
PR and Crisis Management
PR plays a vital role in managing and mitigating crises that can harm an organization's reputation. Prompt and transparent communication, empathy, and strategic messaging are essential during crisis situations to rebuild trust and navigate through challenges.
PR vs. Advertising
While both PR and advertising aim to promote and communicate messages, they differ in their approaches. PR focuses on earned media coverage and building relationships, whereas advertising involves paid placements to deliver controlled messages. PR offers the advantage of credibility through third-party endorsements, while advertising allows for precise targeting and creative control.
Ethical Considerations in PR
Ethics form the foundation of responsible PR practices. Professionals must adhere to codes of conduct, ensure transparency in communication, respect privacy rights, and provide accurate information to maintain the integrity of their work.
PR and Brand Reputation
PR is closely intertwined with brand reputation. Building and safeguarding a positive reputation can lead to increased brand loyalty, customer retention, and a competitive edge in the market. PR strategies help shape public perception and create a favorable environment for brand growth.
Industry Examples of PR Success
Several industries have leveraged PR effectively to achieve their goals. For instance:
Tech Giants: Companies like Apple and Google have mastered the art of PR by generating excitement and anticipation around their product launches through strategic media coverage and engaging storytelling.
Fashion Brands: High-end fashion brands often collaborate with influencers, celebrities, and media outlets to create buzz and establish themselves as trendsetters in the industry.
Nonprofit Organizations: Nonprofits rely on PR to raise awareness about their cause, engage donors, and build partnerships that support their mission.
Future Trends in PR
As technology continues to advance, PR is likely to undergo further transformations. Some anticipated trends include:
Data-driven PR: Utilizing data and analytics to inform PR strategies, measure impact, and personalize communication for more targeted campaigns.
Influencer Marketing: Expanding influencer collaborations and micro-influencer partnerships to tap into niche audiences and foster authentic brand advocacy.
Virtual Reality (VR) and Augmented Reality (AR): Leveraging immersive technologies to create unique PR experiences, virtual events, and interactive storytelling.
Conclusion
Public Relations (PR) is a vital aspect of modern communication, encompassing strategic relationship management, reputation building, and effective storytelling. By understanding the full form of PR and its significance, individuals and organizations can harness its power to establish credibility, shape public perception, and achieve their communication objectives.
FAQs
1. How long does it take to see results from a PR campaign?
The timeline
for PR results can vary depending on various factors, such as campaign objectives, target audience, and industry. Typically, it takes several weeks to months to see the impact of PR efforts, as relationship building and media coverage take time.
2. Can PR help small businesses?
Absolutely! PR can be highly beneficial for small businesses. It helps increase visibility, build credibility, and generate media coverage that can lead to brand recognition and business growth.
3. Is social media a crucial component of PR?
Yes, social media has become an integral part of PR strategies. It offers a platform for direct engagement with audiences, amplifying messages, and sharing content that resonates with target demographics.
4. How can PR help during a crisis?
During a crisis, PR professionals play a critical role in managing communication, providing timely updates, addressing concerns, and preserving the reputation of the organization. They work to rebuild trust and navigate through challenging situations.
5. How can I measure the success of my PR campaign?
Measuring PR success involves tracking key metrics such as media mentions, website traffic, social media engagement, and brand sentiment analysis. This data helps evaluate the impact of PR efforts and make informed decisions for future campaigns.