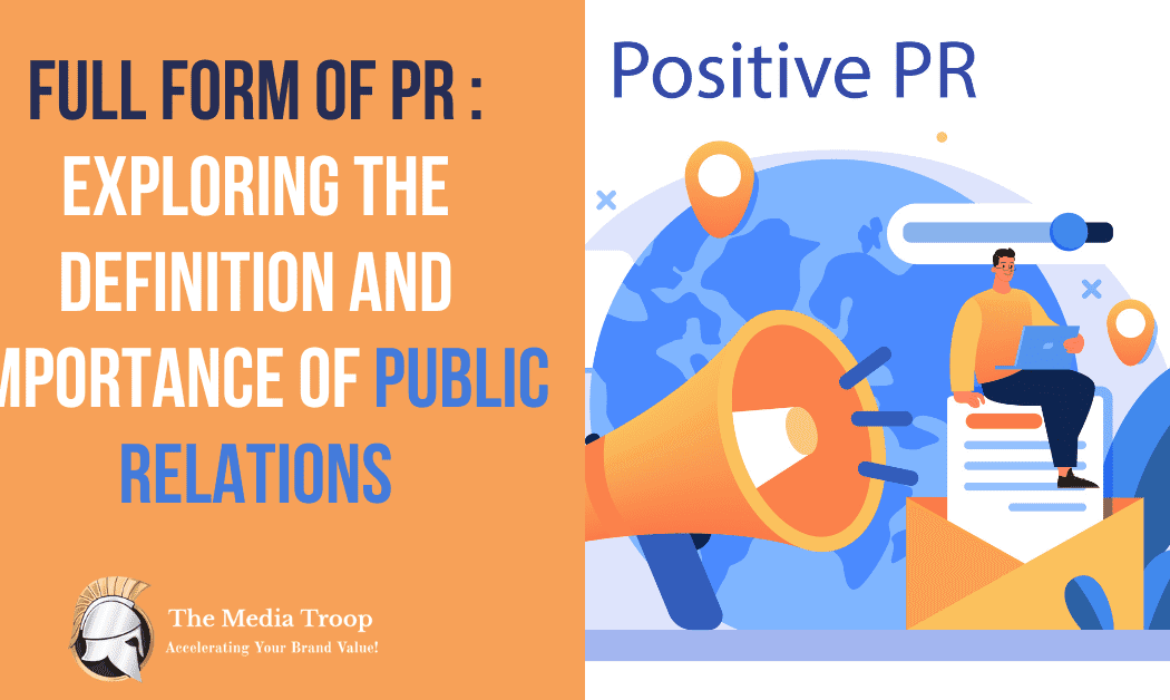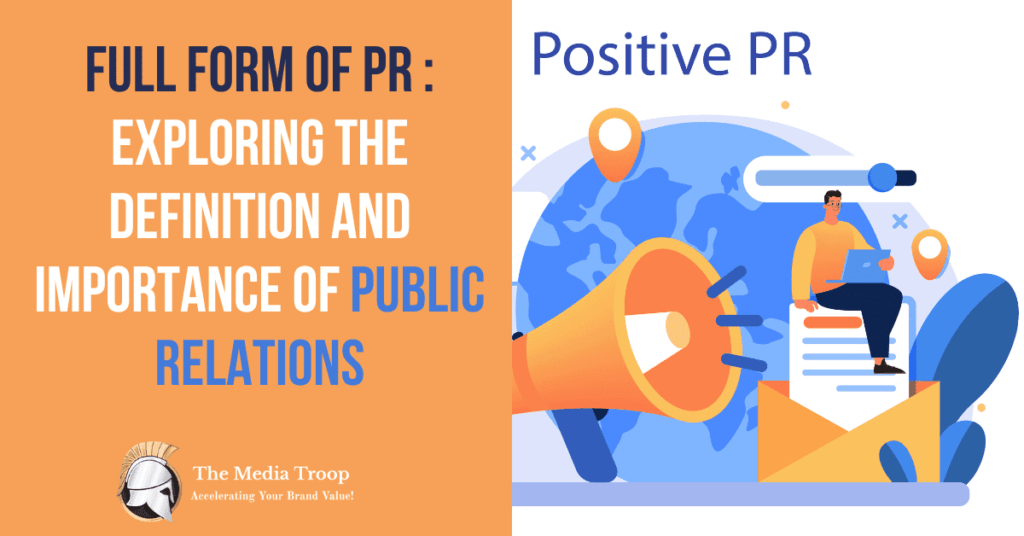 Public Relations (PR) plays a crucial role in shaping the image and reputation of individuals, organizations, and brands. It is an essential component of effective communication strategies, both online and offline. In this article, we will delve into the full form of PR and explore its significance in today's interconnected world.
Table of Contents
What is PR?
The Evolution of Public Relations
Key Objectives of PR
PR Strategies and Tactics
The Role of PR Professionals
PR in the Digital Age
PR Metrics and Measurement
The Benefits of PR
PR and Crisis Management
PR vs. Advertising
Ethical Considerations in PR
PR and Brand Reputation
Industry Examples of PR Success
Future Trends in PR
Conclusion
What is PR?
PR, or Public Relations, refers to the strategic management of relationships between organizations and their target audiences, with the aim of building a positive image, enhancing credibility, and establishing mutually beneficial connections. It involves the planned dissemination of information, managing perceptions, and engaging with stakeholders to influence public opinion and maintain goodwill.
The Evolution of Public Relations
Public Relations has a rich history that dates back to ancient civilizations. However, it gained significant prominence in the early 20th century when it became a distinct field of study and practice. Today, PR has evolved in tandem with technological advancements, embracing digital platforms and social media as powerful tools for communication and engagement.
Key Objectives of PR
The primary objectives of PR are to:
1. Build Awareness and Visibility
PR professionals strive to increase the visibility of their clients or organizations through targeted media coverage, events, and strategic partnerships. This helps in creating a positive perception and reaching a wider audience.
2. Manage Reputation
Maintaining a favorable reputation is crucial for any individual or organization. PR practitioners work to safeguard their clients' reputations by monitoring public opinion, addressing issues promptly, and communicating transparently.
3. Enhance Credibility and Trust
PR endeavors to establish credibility and trust among stakeholders by positioning clients as industry leaders, subject matter experts, or trustworthy sources of information. This is achieved through thought leadership, media relations, and effective storytelling.
4. Foster Relationships
Building and nurturing relationships with key stakeholders, including customers, employees, investors, and the media, is a fundamental aspect of PR. These relationships form the foundation for positive engagement, collaborations, and support during crises.
PR Strategies and Tactics
Successful PR campaigns employ a range of strategies and tactics to achieve their goals. Some common techniques include:
1. Media Relations
Establishing and maintaining relationships with journalists, reporters, and media outlets to secure favorable coverage and share newsworthy stories.
2. Content Creation and Distribution
Crafting compelling and relevant content such as press releases, articles, blog posts, and social media updates to engage target audiences and generate interest.
3. Event Management
Organizing events, conferences, and seminars to create networking opportunities, showcase expertise, and generate media coverage.
4. Influencer Partnerships
Collaborating with influencers and industry experts to amplify messages, enhance credibility, and reach wider audiences through their established platforms.
PR professionals are skilled communicators and strategists who act as liaisons between organizations and their stakeholders. Their responsibilities include:
Developing PR strategies and campaigns
Writing press releases and media pitches
Managing media relationships
Monitoring and analyzing media coverage
Crisis management and reputation repair
Providing strategic counsel to clients
Conducting research and market analysis
Measuring PR campaign effectiveness
PR in the Digital Age
The digital revolution has transformed the PR landscape, offering new channels and opportunities for communication and engagement. Online platforms, social media, and digital analytics enable PR professionals to reach target audiences more effectively, measure campaign impact in real-time, and engage in two-way conversations with stakeholders.
PR Metrics and Measurement
Measuring the success of PR efforts is crucial to evaluate effectiveness and make informed decisions. Common metrics include:
Media mentions and reach
Website traffic and referrals
Social media engagement
Brand sentiment analysis
Share of voice in the media
Conversion rates and lead generation
The Benefits of PR
Effective PR strategies can yield numerous benefits, including:
Increased brand visibility and awareness
Enhanced reputation and credibility
Stronger relationships with stakeholders
Improved customer trust and loyalty
Crisis preparedness and management
Increased sales and business growth
Competitive advantage in the market
PR and Crisis Management
PR plays a vital role in managing and mitigating crises that can harm an organization's reputation. Prompt and transparent communication, empathy, and strategic messaging are essential during crisis situations to rebuild trust and navigate through challenges.
PR vs. Advertising
While both PR and advertising aim to promote and communicate messages, they differ in their approaches. PR focuses on earned media coverage and building relationships, whereas advertising involves paid placements to deliver controlled messages. PR offers the advantage of credibility through third-party endorsements, while advertising allows for precise targeting and creative control.
Ethical Considerations in PR
Ethics form the foundation of responsible PR practices. Professionals must adhere to codes of conduct, ensure transparency in communication, respect privacy rights, and provide accurate information to maintain the integrity of their work.
PR and Brand Reputation
PR is closely intertwined with brand reputation. Building and safeguarding a positive reputation can lead to increased brand loyalty, customer retention, and a competitive edge in the market. PR strategies help shape public perception and create a favorable environment for brand growth.
Industry Examples of PR Success
Several industries have leveraged PR effectively to achieve their goals. For instance:
Tech Giants: Companies like Apple and Google have mastered the art of PR by generating excitement and anticipation around their product launches through strategic media coverage and engaging storytelling.
Fashion Brands: High-end fashion brands often collaborate with influencers, celebrities, and media outlets to create buzz and establish themselves as trendsetters in the industry.
Nonprofit Organizations: Nonprofits rely on PR to raise awareness about their cause, engage donors, and build partnerships that support their mission.
Future Trends in PR
As technology continues to advance, PR is likely to undergo further transformations. Some anticipated trends include:
Data-driven PR: Utilizing data and analytics to inform PR strategies, measure impact, and personalize communication for more targeted campaigns.
Influencer Marketing: Expanding influencer collaborations and micro-influencer partnerships to tap into niche audiences and foster authentic brand advocacy.
Virtual Reality (VR) and Augmented Reality (AR): Leveraging immersive technologies to create unique PR experiences, virtual events, and interactive storytelling.
Conclusion
Public Relations (PR) is a vital aspect of modern communication, encompassing strategic relationship management, reputation building, and effective storytelling. By understanding the full form of PR and its significance, individuals and organizations can harness its power to establish credibility, shape public perception, and achieve their communication objectives.
FAQs
1. How long does it take to see results from a PR campaign?
The timeline
for PR results can vary depending on various factors, such as campaign objectives, target audience, and industry. Typically, it takes several weeks to months to see the impact of PR efforts, as relationship building and media coverage take time.
2. Can PR help small businesses?
Absolutely! PR can be highly beneficial for small businesses. It helps increase visibility, build credibility, and generate media coverage that can lead to brand recognition and business growth.
3. Is social media a crucial component of PR?
Yes, social media has become an integral part of PR strategies. It offers a platform for direct engagement with audiences, amplifying messages, and sharing content that resonates with target demographics.
4. How can PR help during a crisis?
During a crisis, PR professionals play a critical role in managing communication, providing timely updates, addressing concerns, and preserving the reputation of the organization. They work to rebuild trust and navigate through challenging situations.
5. How can I measure the success of my PR campaign?
Measuring PR success involves tracking key metrics such as media mentions, website traffic, social media engagement, and brand sentiment analysis. This data helps evaluate the impact of PR efforts and make informed decisions for future campaigns.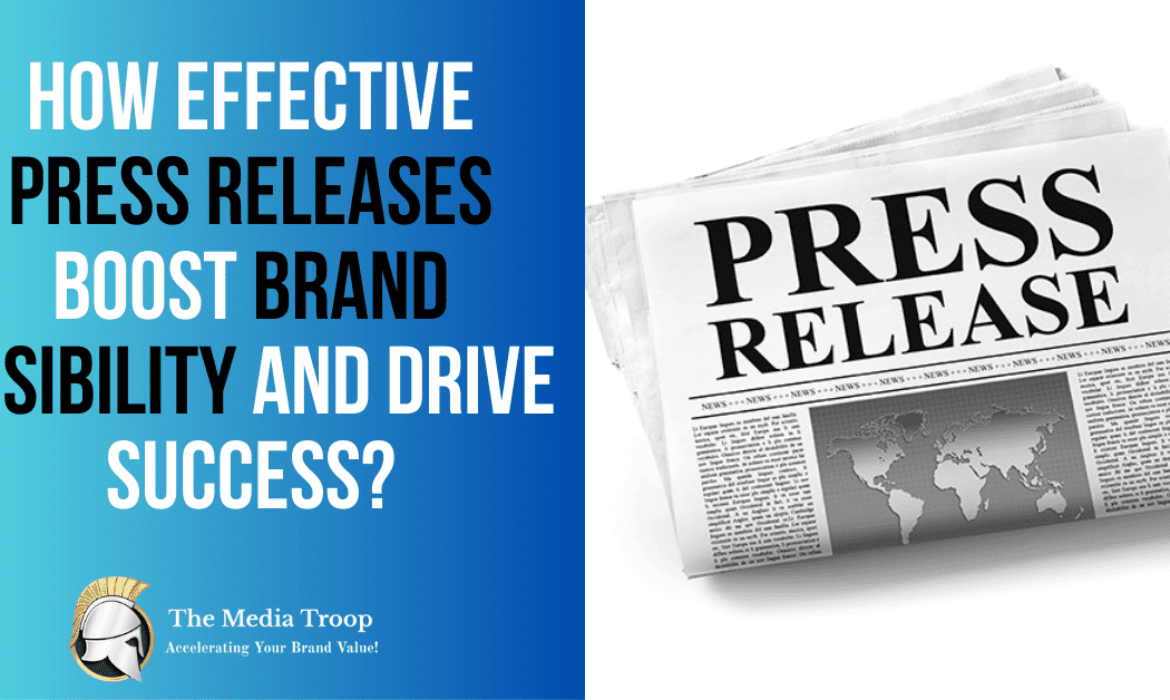 Press releases have long been an essential tool in public relations and marketing strategies. When used effectively, press releases can generate media coverage, enhance brand visibility, and attract attention from potential customers. In this article, we will explore the effectiveness of press releases and how they can benefit businesses.
1. Introduction
In today's fast-paced digital world, businesses are constantly seeking effective ways to communicate their message to a wide audience. Press releases have proven to be a valuable tool for companies of all sizes, enabling them to share important news, announcements, and updates with journalists, industry influencers, and the general public.
A press release, also known as a news release or media release, is a written communication that announces something newsworthy about a company, organization, or individual. It serves as a direct channel of communication between the issuer and the media, providing journalists with the necessary information to craft a story or news article.
3. The Purpose of Press Releases
The primary purpose of a press release is to generate media coverage and raise awareness about a specific event, product launch, milestone, or any other newsworthy development within an organization. Press releases are designed to attract the attention of journalists, bloggers, and industry influencers who can amplify the message to a larger audience.
4. Benefits of Press Releases
Press releases offer several benefits for businesses:
4.1 Brand Visibility: Press releases help increase brand visibility by reaching a wider audience through media coverage. When a press release gets published by reputable news outlets or shared on influential websites, it can significantly enhance a company's visibility and credibility.
4.2 SEO Benefits: Press releases can contribute to search engine optimization (SEO) efforts by generating backlinks from reputable websites. These backlinks improve a company's search engine rankings, making it more discoverable to potential customers.
4.3 Thought Leadership: Well-crafted press releases that provide valuable insights and expert opinions can position a company as a thought leader in its industry. This enhances brand reputation and encourages trust among consumers.
4.4 Crisis Management: Press releases are an effective way to manage and control the narrative during a crisis or challenging situation. By promptly addressing the issue, companies can mitigate potential damage and maintain transparency.
5. How to Write an Effective Press Release
Writing an effective press release requires careful planning and attention to detail. Here are the key elements to consider:
5.1 Compelling Headline: The headline should grab attention and clearly convey the main message of the press release.
5.2 Engaging Introduction: The opening paragraph should provide a concise summary of the news and entice readers to continue reading.
5.3 Newsworthy Content: Press releases should focus on sharing information that is genuinely newsworthy, such as product launches, significant partnerships, awards, or industry innovations.
5.4 Concise and Clear Language: Keep the press release concise, using clear and simple language to ensure easy comprehension.
5.5 Quotes and Multimedia: Including quotes from key stakeholders adds credibility and humanizes the press release. Additionally, incorporating multimedia elements such as images or videos can make the content more engaging and shareable.
5.6 Contact Information: Provide clear contact information at the end of the press release for media inquiries or further information.
6. Distribution Channels for Press Releases
Once the press release is written, it needs to be distributed effectively to reach the target audience. Here are some common distribution channels:
6.1 Newswire Services: Utilize newswire services that distribute press releases to a wide network of journalists, media outlets, and online platforms.
6.2 Media Outreach: Personally reach out to journalists, bloggers, and influencers who cover topics relevant to the press release. Build relationships and offer exclusives to increase the chances of coverage.
6.3 Company Website and Social Media: Publish the press release on the company's official website and share it across relevant social media channels to reach a broader audience.
6.4 Email Marketing: Leverage the company's email list to send the press release directly to subscribers, customers, and industry contacts.
7. Measuring the Effectiveness of Press Releases
To determine the impact of press releases, it's important to track and measure their effectiveness. Here are some metrics to consider:
7.1 Media Coverage: Measure the number of media outlets that pick up the press release and the quality of coverage received.
7.2 Website Traffic: Analyze the increase in website traffic following the distribution of the press release.
7.3 Social Media Engagement: Monitor the engagement metrics on social media platforms, such as likes, shares, comments, and mentions related to the press release.
7.4 Backlinks and SEO: Track the number and quality of backlinks generated from the press release, as well as the impact on SEO rankings.
8. Tips for Maximizing the Effectiveness of Press Releases
To maximize the effectiveness of press releases, consider the following tips:
8.1 Targeted Distribution: Tailor the distribution of press releases to specific journalists, bloggers, or industry influencers who are likely to be interested in the news.
8.2 Timing: Choose the timing of the press release strategically to ensure maximum visibility and avoid competing with other major news events.
8.3 Multimedia and Visuals: Include compelling visuals, such as images, infographics, or videos, to make the press release more appealing and shareable.
8.4 Personalization: Customize the press release by addressing the recipient directly, demonstrating that it is not a generic mass email.
8.5 Follow-Up: Follow up with journalists or media outlets after sending the press release to build relationships and answer any questions they may have.
9. Examples of Successful Press Releases
Several companies have achieved success through well-executed press releases. For instance:
9.1 Company XYZ Launches Innovative Product: This press release generated significant media coverage and created buzz around the launch of a groundbreaking product.
9.2 Organization ABC Receives Industry Recognition: By sharing news about an industry award, this press release positioned the company as a leader in its field and garnered attention from industry publications.
10. Press Release Best Practices
To create impactful press releases, follow these best practices:
10.1 Keep It Concise: Stick to the key information and avoid excessive jargon or technical details.
10.2 Proofread and Edit: Ensure the press release is error-free, well-written, and maintains a professional tone.
10.3 Be Newsworthy: Share information that is genuinely interesting, timely, and relevant to your target audience and the media.
10.4 Use a Conversational Tone: Write the press release in a conversational style to engage readers and make the content more accessible.
10.5 Include Quotes: Incorporate quotes from key individuals within the organization to add credibility and provide a human element to the press release.
10.6 Optimize for SEO: Use relevant keywords and phrases in the headline, subheadings, and body of the press release to improve search engine visibility.
10.7 Include Contact Information: Provide accurate contact details, including the name, email address, and phone number of a spokesperson who can provide additional information or arrange interviews.
11. The Future of Press Releases
As technology continues to evolve, the landscape of press releases is also changing. Digital advancements have opened up new opportunities for distribution and engagement. In the future, we can expect to see more interactive and multimedia-rich press releases, personalized targeting, and real-time analytics to measure effectiveness.
Press releases remain a valuable tool for businesses to communicate important news and generate media coverage. When crafted effectively and distributed strategically, press releases can enhance brand visibility, drive website traffic, and position companies as industry thought leaders. By following best practices and continuously adapting to emerging trends, businesses can maximize the effectiveness of their press release efforts.
FAQs
Q1. How often should I send out press releases?
The frequency of press releases depends on the nature of your business and the news you have to share. It's important to strike a balance between staying relevant and avoiding information overload. Aim to send out press releases when you have significant news or updates to share, such as product launches, major partnerships, or noteworthy achievements.
Q2. Can small businesses benefit from press releases?
Absolutely! Press releases can be valuable for businesses of all sizes. They provide an opportunity for small businesses to gain media coverage and increase their visibility within their industry. By sharing newsworthy updates, small businesses can attract the attention of journalists, potential customers, and industry influencers, helping them build credibility and grow their brand.
Q3. How long should a press release be?
Ideally, a press release should be concise and to the point. Aim for a length of 400-600 words, focusing on the most important information. Journalists and media professionals often receive numerous press releases, so keeping it brief and impactful increases the likelihood of them reading and covering your news.
Q4. Can I use press releases for SEO purposes?
Yes, press releases can contribute to your SEO efforts. When distributed through reputable newswire services and online platforms, press releases can generate backlinks to your website, improving your search engine rankings. Additionally, optimizing press releases with relevant keywords and phrases can help increase organic visibility and drive targeted traffic to your website.
Q5. Should I follow up with journalists after sending a press release?
Following up with journalists can be beneficial, but it's important to do so tactfully. Give journalists a reasonable amount of time to review the press release before reaching out. When following up, be polite, concise, and offer to provide additional information or arrange interviews if needed. Respect their time and deadlines, and remember that building relationships is a long-term process.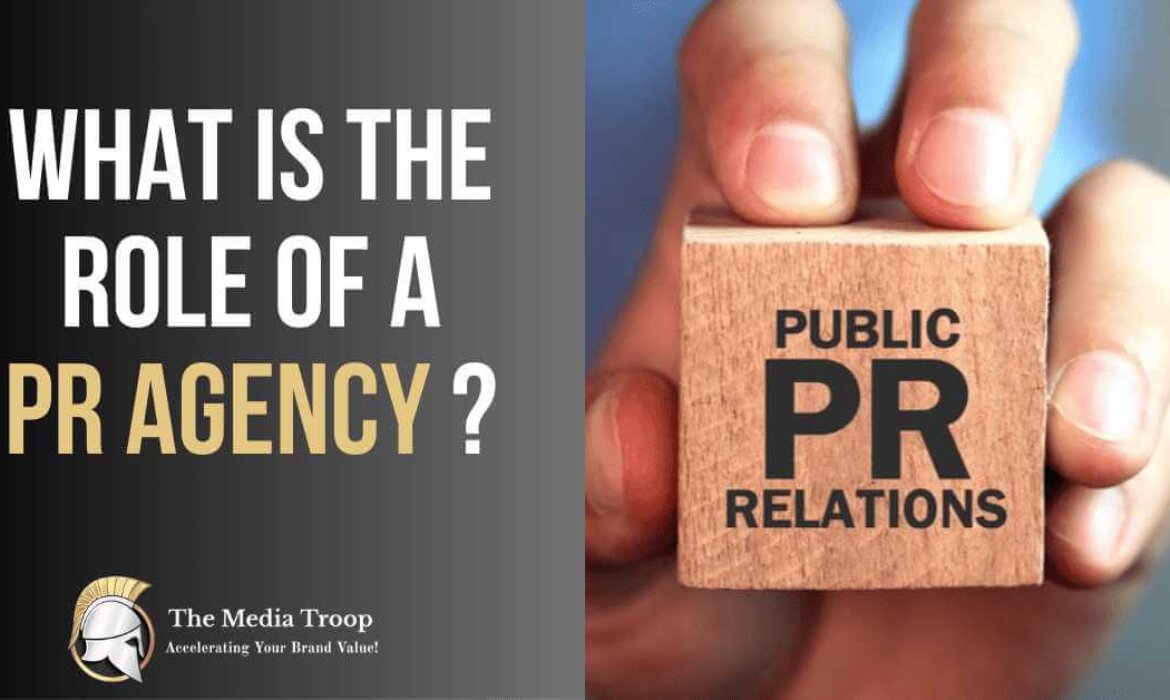 The role of a PR agency is crucial in creating and maintaining a positive image for an organization or individual through effective communication strategies. Public Relations (PR) plays a key role in business communication, and in today's fast-paced and competitive market, companies require a solid PR strategy to build and maintain their reputation. This is where a PR agency can help by providing professional services that specialize in creating and executing communication strategies to achieve business goals.
Introduction
PR agencies play a crucial role in shaping public perception of a company, brand, or individual. The agency's job is to identify the target audience and craft messages that resonate with them. PR agencies use a variety of tactics such as media relations, social media management, influencer marketing, and events to deliver their message.
What is the role of a PR agency?
The role of a PR agency is to manage and enhance the public image of an individual, brand, or company. PR agencies help clients create and implement a communication strategy that promotes positive brand awareness, reputation management, and brand positioning. PR agencies also help companies navigate and manage crises and negative publicity.
PR agencies help companies achieve their business goals
PR agencies help companies achieve their business objectives by creating and executing communication strategies that enhance the brand's reputation and create a positive image in the market. PR agencies also help companies launch new products and services by creating buzz around the launch and generating media coverage.
PR agencies help build and maintain relationships
PR agencies help businesses build and maintain relationships with their stakeholders, including customers, shareholders, employees, and the media. The agency helps clients communicate with their stakeholders, respond to their queries, and build trust and credibility.
PR agencies help manage crises
When a company faces a crisis, such as a product recall or negative media coverage, a PR agency can help manage the situation. PR agencies are experts in crisis communication and can help clients navigate the situation by crafting an appropriate response and managing the media.
PR agencies help with media relations
PR agencies help clients establish relationships with the media and get media coverage. PR agencies use their contacts and expertise to pitch stories to journalists and secure media coverage for their clients.
PR agencies help with influencer marketing
Influencer marketing is an important part of modern PR strategy. PR agencies can help clients identify the right influencers and work with them to promote their brand or product.
How does a PR agency work?
PR agencies work closely with clients to understand their communication needs and develop a PR strategy that meets those needs. The agency will create a plan that includes tactics such as media relations, social media management, events, and influencer marketing. The agency will then execute the plan and measure the results to determine the effectiveness of the strategy.
FAQs about PR Agencies
1. What is the difference between PR and advertising?
PR is about creating a positive image for a brand or individual through earned media coverage, while advertising involves paying for media placement. PR is about building relationships with the media and promoting positive coverage, while advertising is about promoting products or services directly to the consumer.
2. How much does a PR agency cost?
The cost of a PR agency depends on the scope of work and the agency's expertise. Most PR agencies charge a monthly retainer fee, which can range from a few thousand dollars to tens of thousands of dollars.
3. How long does it take to see results from a PR campaign?
The time it takes to see results from a PR campaign depends on the goals and objectives of the campaign. Some campaigns may generate results quickly, while others may take several months or even years.